Getting credentialed through Headway
Once you've completed our intake form, we'll start getting you credentialed with all of our insurance partners in your region. For your intake, we'll need:
Your professional and educational background
Experience
Some other details (requirements may differ based on state and carrier)
Our intake form takes around 20 minutes to complete, and you'll only need to do it one time.
Credentialing process timeline
Seeing clients on Headway requires that you are credentialed with our insurance carriers, and our goal is to get you credentialed as quickly as possible while maintaining the highest quality standards.
Regulatory guidelines vary by state and carrier, which causes timelines to vary—it can take anywhere from 3 weeks to 4 months to be approved.
Insurance status
We'll keep you posted on the progress of your applications and let you know we need anything else. Below, you can find examples of what your Insurance Status page will look like at different points in the credentialing process.
Post credentialing application completion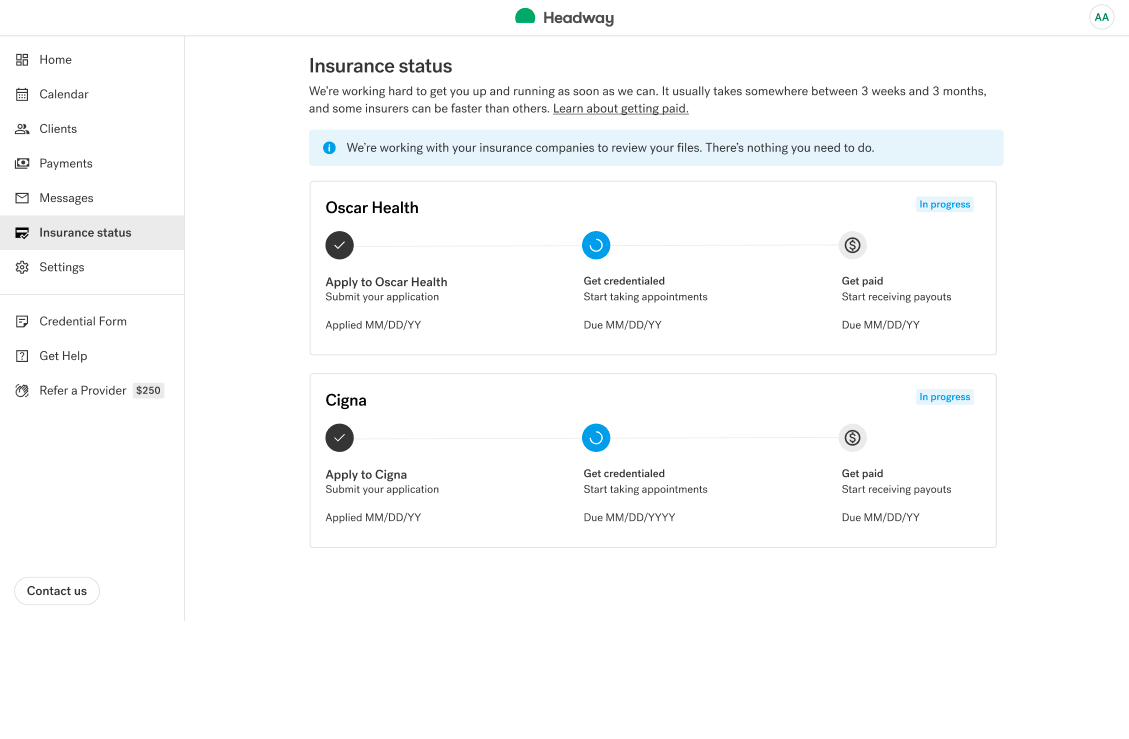 Post credentialing completion
Post guaranteed payment date
Post credentialing + guaranteed payment date with all panels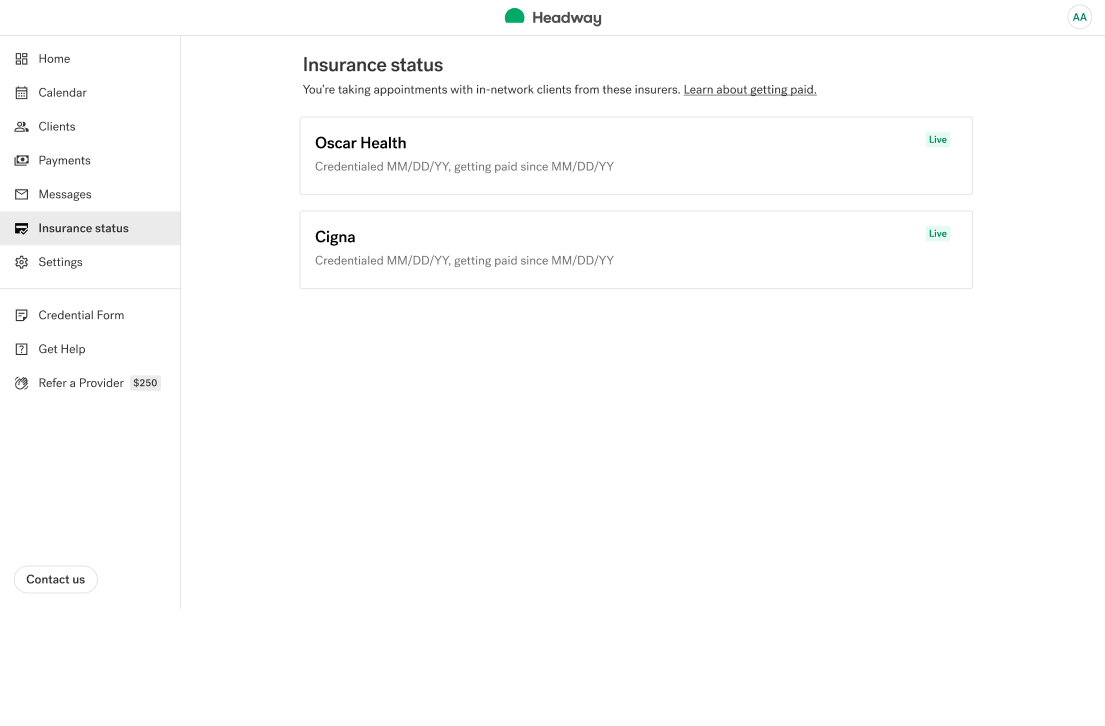 Information needed for your intake form
We'll handle all of the insurance applications for any insurance panels we work with or will work with in the future — you only need to fill out our intake form once.
Our intake form collects all of the information the insurance panels need, including:
SSN, DOB, and mailing address
License type, state, number, expiration
Board certification information, if applicable
DEA information, if applicable
NPI
Education history
Specialties
Practice location
Hospital affiliations, if applicable
Employment history (past 5 years including any work gaps)
Disclosures
Professional liability insurance
CAQH login (if you have an existing account)
Anthem/BCBS requirements
Anthem/BCBS requires providers to live in the same state they are seeking credentialing in.
A provider must live in their state of residence for a minimum of 183 days in order to be considered a resident. Holding an office in the state does not qualify providers for credentialing.
Getting de-credentialed / de-paneled with insurance carriers
It's important to us that providers on Headway accept all qualified clients with any insurance they're paneled with — this serves our goal to make it easy to move from looking for to receiving care for clients, and roadblocks like this can discourage clients.
If you are not open to accepting clients with a particular insurance, and would like to remove this from your list of accepted insurances, reach out to us so we can assist in de-paneling you with the carrier. This will prevent you from seeing any clients on your caseload with said insurance.
If you'd like to de-panel with all insurance carriers, you'll need to terminate your provider contract with Headway.
Seeing private pay clients
You will be able to continue seeing clients privately once you're credentialed with Headway.
Any invoices that you provide to your clients will have your NPI and tax ID number, which allows providers to maintain their out-of-network status. Any claims submitted on Headway are submitted using your NPI number as the rendering provider, and Headway's tax ID number.
If you are seeing a client via private/self-pay and they hold an insurance that you accept via Headway, their insurance may inform them that you are currently in-network on Headway.
After the credentialing process is complete
Once you're credentialed, you can officially start billing for clients through Headway. This means you can confirm any sessions you hold, and we'll take care of the rest.
We guarantee payment for your sessions on the 15th and last days of every month, no matter what may happen with the insurance claim and billing process. Payment for sessions occurs anywhere between 14 and 30 days after you confirm the details of the appointment, and you can monitor that information within your account.
To get started seeing clients, add any of your existing clients and/or set up your profile and calendar openings so clients can book with you.