If you're a client:
Each provider on Headway sets their own cancellation policy for their practice — it isn't determined by Headway. A cancellation policy is an agreement between you and your provider that outlines how much will be charged if you cancel within a certain window of time (typically 24 to 48 hours before the session).
You may have been charged a cancellation fee because:
You canceled a session within your provider's predetermined cancellation window

You missed your session, or did not show up for any reason, without communicating to the provider beforehand *
* This is commonly referred to as a "no-show".
Cancellation fees are

never

covered by insurance
In the event of a cancellation during the cancellation window or a "no-show", we cannot submit the charge through your insurance for reimbursement – this is because a session did not take place.
You are responsible for the entire fee, as insurance won't cover it.
Locating your provider's cancellation policy
You can find your therapists' specific fees and required cancellation window in your session reminder emails. You can also discuss this with your provider via the messaging portal or during your first session.
Disputing a cancellation fee charge
Please discuss cancellation fees directly with your provider to see if there's any flexibility. If so, you can have them contact us and we'll be more than happy to update it for you!
Canceling or rescheduling a session
If you need to cancel or reschedule a session, you can do so in the Appointments section of your account.
To modify your session details, please navigate to the session you want to adjust, select the "Cancel Session" button, and from there, you'll have the option to:
Message your provider to reschedule your session or
Click on the "cancel appointment" button to cancel without rescheduling
Changing your session location
If you need to change a virtual visit to in-person, or an in-person visit to virtual, you'll need to contact your provider directly. You can do this by reaching out to your provider via Messages on Headway.
If you're a provider:
Your cancellation fee will apply when the cancellation is initiated by the client. If you're cancelling on their behalf, you'll be able to indicate this in your calendar.
In order to trigger a cancellation fee, you'll have to select either "client did not show" or "client canceled session" from the drop down. If you select any other option, you will not be able to charge a fee.
Cancellation fees are paid in full to you, not to Headway. These payments will appear in your regularly scheduled paycheck. Check out our article on getting paid for more information on how and when this happens.
Rescheduling sessions
To reschedule:
Visit your calendar page
Click into the session you need to reschedule
Select "Reschedule session"
Enter the new details in that same window
Canceling sessions
To cancel:
Visit your calendar page
Click into the session you need to cancel
Select "Cancel session"

Select the reason for cancellation and confirm the client fee (if any)
Managing canceled sessions
You can hide canceled sessions from your calendar by using the filter at the top of the calendar page (see below).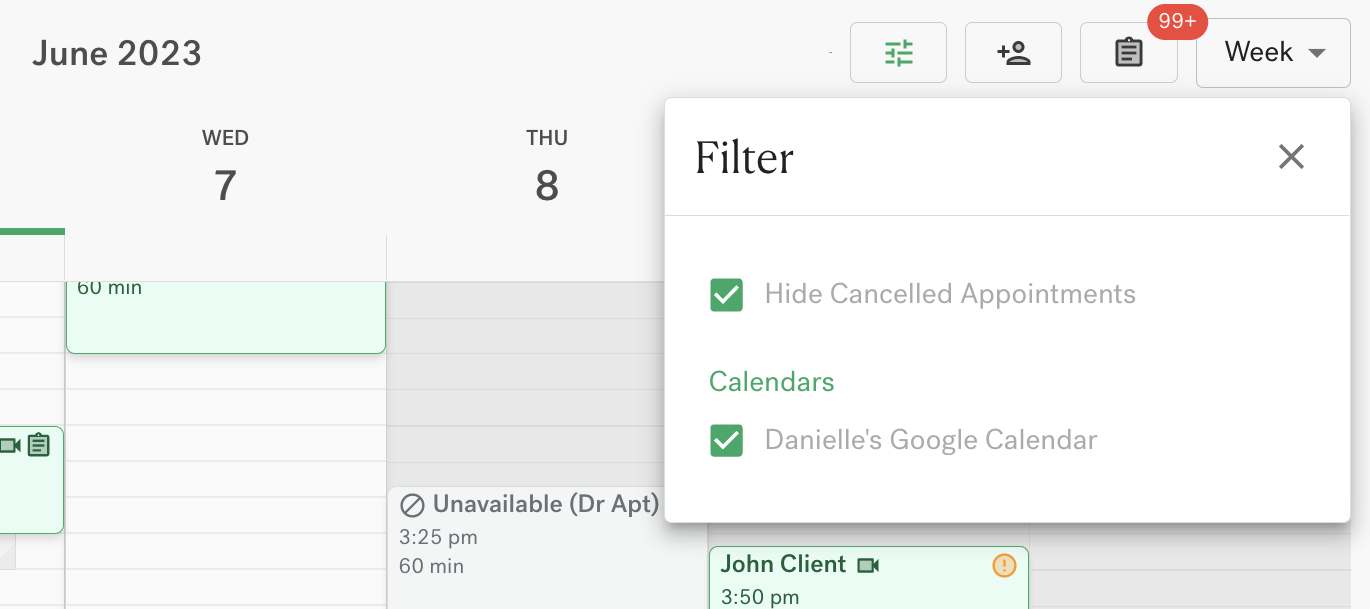 Before canceling, double check the fee
We receive a high number of inquiries from clients pertaining to cancellation fees. If you are canceling a session on their behalf due to a conflict / reschedule, and have agreed to waive the fee, be sure to update the amount charged prior to cancelling.
Managing your cancellation policy
You can edit your policy within Settings in your Billing tab.
To set or update your policy:
Visit your billing page
Click "Update cancellation policy"
Enter the cancellation fee you'd like to set
Choose a 24-hour or 48-hour cancellation window
Cancellation fee maximum
As a note, cancellation fees cannot exceed $200.
Editing and waiving cancellation fees
For any cancellations that you process on Headway, we'll automatically populate your set cancellation fee if it applies. You can then edit the fee if you'd like to waive it or adjust it up or down as needed.
You can edit the dollar amount or cancel out cancellation fees anytime before your next payment goes through (15th and last day of the month). We'll always show you how many days are left to edit in your calendar, and we'll take care of charging or refunding your client any difference.
To waive the fee:
Visit your calendar
Select the canceled session you want to edit
Click "Modify cancellation details"
Make any necessary changes to the cancellation reason and set the fee to $0 to waive
Click "Modify" to save
To edit the dollar amount of the fee:
Visit your calendar
Select the canceled session you want to edit
Click "Modify cancellation details"
Make any necessary changes to the cancellation reason and fee
Click "Modify" to save
Retroactively charging a cancellation fee
In the event that you've already canceled a session and did not add a cancellation fee, but would like to:
Click on the newly added session
Select "cancel session"
Select either "client did not show" or "client canceled session" as the cancellation reason from the drop down menu
Enter the cancellation fee under "How much should we bill the client?"
Click the "cancel session" button