Confirming a session
Once you've had the session, click on it in your calendar. Then, click "Confirm session details."
We'll need a CPT code and a diagnosis to confirm the session and submit it to the insurance companies. Notes are optional here (we require that you take notes, but you are not required to take them in our system).
Your client will be billed the day after you confirm the details of your session.
Editing a confirmed session
You can modify session details for 48 hours after confirming by following the below steps:
Click the session on your calendar.
Click Modify session details.
Make any changes to date/time/location, CPT or DX code and save.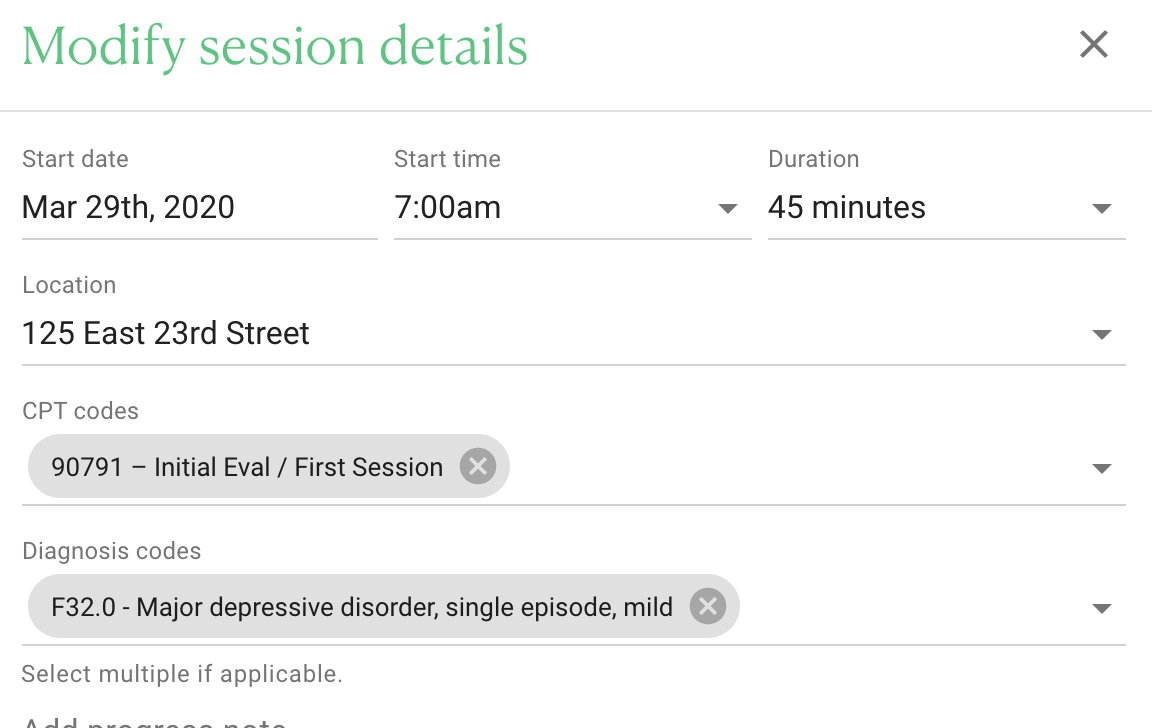 If the 48 hour window has passed, reach out to us and we can help.
When to confirm a session
You should always schedule sessions in advance and confirm promptly (within 30 days) after the session occurs. It's a provider's responsibility to do this as soon as possible so that:
Headway can confirm that the client's insurance plan actually covers the session
The claim isn't denied for being filed outside of timely filing limits
Please note that you won't be able to confirm a session or be paid until after a client has their payment method, acknowledgement of standard forms, and a verified insurance plan on file.
While we do ask that you confirm sessions as soon after they occur as possible, per Headway policy, you must confirm sessions within 30 days of date of service (the day the session occurred). After 30 days have passed since the session occurred, you will no longer be able to confirm the session.
Canceling a confirmed session
While you can edit a session within 48 hours of confirming the session, if you need to cancel an already confirmed session, please contact us directly. Our team can take it from there and make sure that the client's claim gets cancelled.