Your explanation of benefits (EOB) and Summary of Benefits & Coverage (SBC) are important documents from your insurance company that are there to help you understand your benefits.


Explanation of benefits (EOB)
An explanation of benefits (EOB) is sent to you by your health insurance company to let you know that a claim has been processed for care that you received. It is meant to help you understand how much each service costs, how much your plan will cover, and typically how much you may have to pay when they do receive a bill. EOBs should help clarify the following:
The cost of care you received

What portion of the cost your insurance company

covered

Any out-of-pocket expense you may be responsible for
EOBs are not bills
The EOB is not a bill, although it will explain any charges that the patient still owes or may have already paid (in the form of a copay at the time the service was received, for example); it is a reflection of how your insurance processed your claim. You do not need to take any action on your EOB!

Accessing your EOBs
You may receive your EOBs in the mail, electronically, or both ways. Most clients can access their EOBs using their insurance company's online portal via web browser (i.e. Google Chrome, Internet Explorer, Safari) or mobile app. The portal is a secure place for members to access information about their specific insurance policy.
After logging in, from your account you will be able to view, download, and print any EOBs for care that you've received.
You may need to create an account on your insurance company's website or app before being able to access your EOBs.
Below are links to the member portals for some of the insurance companies Headway works with:**
** If you do not see your insurance company's portal listed above, you may be able to find a link on the back of your insurance card, or you can obtain it by calling the Member Services number on the back of your insurance card.
Reading your EOB
Typically, an EOB includes a few sections. The main section provides details for each individual claim per date of service (DOS), or date that you received care. Sometimes an EOB may include multiple dates of service, so be sure to look for the date you had your appointment on!
The following information will be included in your EOB (click on each term to expand):
Insurance Company's Phone Number
This is a phone number that you can call if you have questions about what your coverage includes.
Payee
This is the person who will receive any reimbursement for any overpayment on a claim.
Service Description
This is a description of the health care services you received; with Headway, this would be your therapy/psychiatry visit!
Provider Charges
This is the amount that your provider bills for your visit.
Allowed Charges
This is the amount that your provider will be reimbursed; this amount is negotiated between the insurance company and the provider, and at times will not be the same as the Provider Charges.
Paid by Insurer
This is the amount your insurance plan will pay to your provider, or how much your plan will cover for that claim.
What You Owe
This is the amount that you owe after your insurance company has paid, or covered, for each claim. You may have already paid part, or all, of this amount. With the way Headway works, you should have already paid this amount in full (see EOBs & Headway's claim cycle for more details).
Remark Code(s)
This is a note from the insurance plan that explains a bit more about the costs, charges, and paid amounts for your visit.
In the photo below, you'll be able to see where the above terms may fit into your actual EOB document.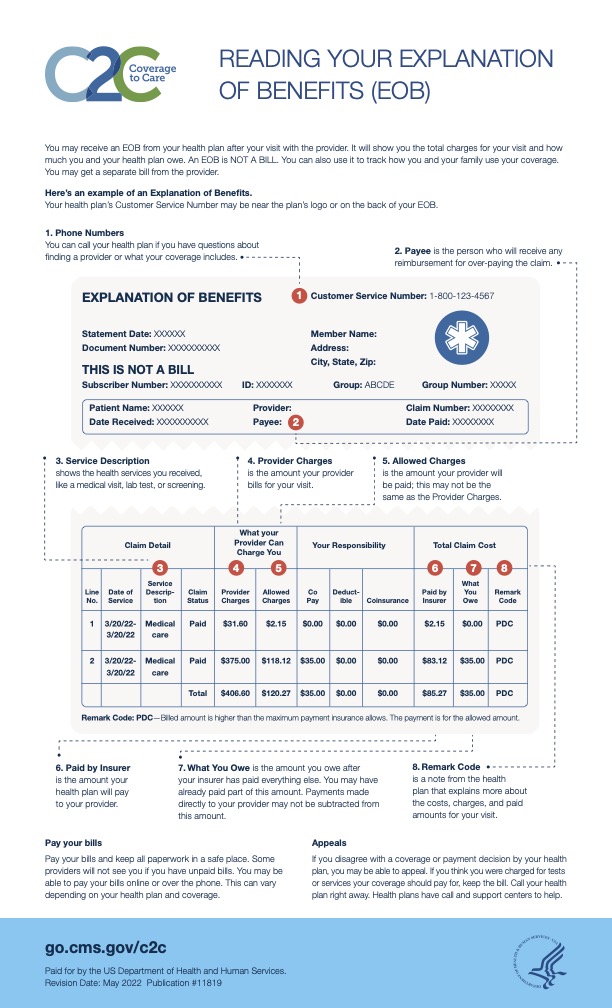 Source: CMS.gov, Centers for Medicare & Medicaid Services (https://www.cms.gov/files/document/11819-sample-explanation-benefits-508.pdf)
The "What You Owe" section (sometimes entitled "Your Total Cost") within your EOB will state your patient responsibility, which is how much you're expected to pay for the service. This may be a copay, coinsurance, or part of your deductible amount.
Further explanation of the terms on your EOB can be found in our How Insurance Works article.
EOBs & Headway's claim cycle
Headway's claim cycle is a bit different because Headway collects the patient responsibility (co-pay, co-insurance, or deductible amount) after your sessions but prior to filing the claim. You are billed by Headway immediately after your provider confirms that the session took place and enters the codes for your session, and those codes determine your cost. We are able to do this because our system reads insurance benefits in real time, so we're able to bill at the time of service, instead of waiting for insurance to process claims submitted via Headway. The cost per session is based on each clients' behavioral health benefit within their specific insurance plan. You can see all prior invoices from Headway on your Past Appointments Page.
Your healthcare providers should charge you the amount listed under "Client Responsibility" on your EOB if the claim is processed correctly in-network. If your claim is denied for any reason, or the EOB indicates that you owe something other than what was charged, let us know so that we can look into further.
Reasons your EOB might indicate a different cost than your Headway charge include:
Insurance company processing error

Out-of-date insurance information

Insurance lookup error

Non-covered benefit

Coding error
If your charges from Headway are different from what is reflected on your EOB, we will investigate the source and refund as needed.
By signing up with your insurance plan and seeking care with an in-network provider, you have agreed with your insurance company to pay the "Client Responsibility" amount on your explanation of benefits. We aren't able to alter the costs of sessions, except in very limited circumstances, due to the agreements you and Headway have made with the insurance company.
When we collect eligibility and/or benefits information directly from the insurance companies and tell clients what is owed for the mental health care, this message (or a similar message) is received:
"Verification of eligibility and/or benefit information is not a guarantee of payment. Benefits will be determined once a claim is received and will be based upon, among other things, the member's eligibility, any claims received during the interim period and the terms of the member's certificate of coverage applicable on the date services were rendered."
This means that, before the claim has been received and processed, the benefit and/or eligibility information shared is an estimate; the amount owed per session is subject to change based on how the insurance company processes the claim.
While we can't control the information that your insurance company stores and shares, we are committed to continuing to improve these processes and get this right for you.
Summary of Benefits & Coverage (SBC)
The Summary of Benefits & Coverage (SBC) is an easy-to-read summary of your health insurance. It explains your benefits and shows examples of how much you might pay out of pocket for given services. All SBCs must follow a standard format, which you can view in the example below.
Your SBC can help you understand what your insurance plan covers and how much you may need to pay for different healthcare services.
Example of an SBC Source: CMS.gov, Centers for Medicare & Medicaid Services (https://www.cms.gov/CCIIO/Resources/Forms-Reports-and-Other-Resources/Downloads/SBC-Sample-Completed-MM-508-fixed-4-12-16.pdf)
Accessing your SBC
You'll receive an SBC when you shop for coverage on your own or through your job or when you renew or change coverage. You may be able to locate the document in your carrier's portal, as well.
If you're not able to find it right away, you can always request a copy from your insurance company by calling the Member Services phone number on the back of your insurance card.
Summary of Benefits vs. explanation of benefits
The Summary of Benefits and Coverage is different from an EOB. Your Summary of Benefits will give a high level look at your plan, showing you an overview of services that are covered, benefits, and your plan's costs. This document will not show actual coverage based on actual services rendered.
An EOB is specific to your plan and services/care you received. It will show specifically what your insurance carrier covered for the individual services rendered on specific dates, and defines how much your insurance will cover and how much you'll owe.
In summary, the SBC is a document that provides a summary of all available benefits on your insurance plan, while the EOB is a document that explains the coverage and costs associated with a specific healthcare service.
Additional Support
Since Headway handles all of the billing, claims, and administrative work for our providers, if you ever have any questions about claims, feel free to contact Headway directly. Kindly attach any applicable documents to your inquiry, including:
Invoices

Explanation of benefits (EOB)

Photos of the front and back of your insurance card
If you have any further questions about how to read your EOB or what certain parts of it mean, you can refer to the section above, entitled How do I read my EOB?. Alternatively, feel free to reach out to your insurance company directly by calling the Member Services number on the back of your insurance card.